Vocalist Marlene Arden and Pianist Phil Conti perform on Cruise Ships and Five-Star Hotels & Resorts Worldwide. Their vast repertoire encompasses Jazz & Blues Standards, the Great American Songbook, Contemporary/Smooth Jazz, Brazilian/Latin, and an array of Contemporary selections.
Marlene Arden & Phil Conti are more than just accomplished musicians performing on stage. They engage the audience with their warm personalities and enthusiasm for their music. They draw on each other's talents to create their distinctive style.
Marlene Arden is a lifelong musician. The daughter of trumpet player and Big Band leader Ben Arden and virtuoso violinist Sylvia Arden. Marlene was literally "born on the road," she spent her childhood under the influence and company of family friends such as Peggy Lee, Tony Bennett, Nat King Cole, Sarah Vaughan, and many more. Marlene became the first Jazz and Contemporary Singer to earn a Degree in Voice from The American Conservatory of Music in Chicago. Her smooth and smoky voice transports the listener to the very heart of the song. An artist of truly International appeal whose repertoire of songs are sung in English, Brazilian Portuguese, French, Spanish and Italian.
Phil Conti is a world-class pianist and composer who started playing classical piano at the age of five. As a teenager, he expanded his playing to Jazz, Pop, and R&B. Phil Conti was performing in the Los Angeles area professionally from the age of fifteen with his own trio, as well as touring with various bands throughout the United States and Canada. His travels led him to Las Vegas where he played extensively in Hotels and Casinos. Since then Phil has been performing on Five-Star Cruise ships for the last twenty-five years.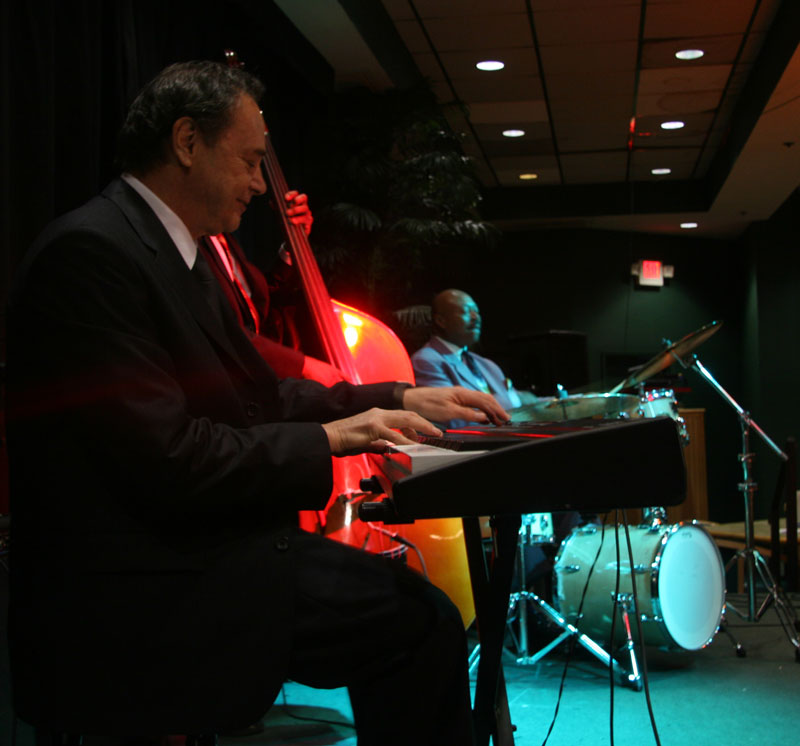 Marlene Arden and pianist Phil Conti found perfect harmony when they performed together as "The Marlene Arden Trio" in The Downbeat Jazz Lounge onboard The Carnival Destiny. After nearly a decade, they reunited to form "Marlene Arden & Phil Conti." They were the featured Guest Entertainers aboard Japan Cruise Line's, The Pacific Venus sailing from Australia, The South Pacific, and Japan. The Marlene Arden Jazz Quartet received excellent reviews from their recent performances onboard Royal Caribbean International, the Oasis of the Seas and the Allure of the Seas, appearing in "the Best Jazz Club at Sea", Jazz on 4.
Their career path to date has been broad-based including long-term engagements worldwide in Five-Star hotels: The Ritz-Carlton Chicago; Four Seasons Hotel Newport Beach, California; The Ritz- Carlton, Laguna Niguel, California; Westin Bonaventure Los Angeles, California; Four Seasons Hotel, Calgary, Canada; Westin Banyan Tree, Bangkok, Thailand; Shangri-La Hotel, Jakarta, Indonesia; Sheraton Imperial Hotel (ITT Sheraton Luxury Collection), Kuala Lumpur, Malaysia; Las Vegas Hilton and The Flamingo Hotel Las Vegas.
Luxury Cruise Ship long-term engagements include, Royal Caribbean International, Princess Cruises, Celebrity Cruises, Inc., Japan Cruise Line, Crystal Cruise Line, Holland America, Disney Cruise Line, Norwegian Cruise Line, and Carnival Cruise Line.
Marlene Arden & Phil Conti's latest CD, entitled "'S Wonderful" is an eclectic mix of Jazz and Contemporary Jazz. Selections include Cole Porter's "Night & Day"; Gershwin's "'S Wonderful"; Van Morrison's "Moondance"; Michael Franks's "Down in Brazil"; Sassy Bluesy songs, "Fever" and "Why Don't You Do Right"... to Contemporary Jazz selections, "Rio de Janeiro Blue", Ronnie's Samba, and more...
Marlene Arden & Phil Conti are currently working on their new CD, which will feature Jazz and Contemporary Jazz selections along with some of their original songs.